Saint Augustine's University Cycling Team Conquers Unbound Gravel Race for Second Year in a Row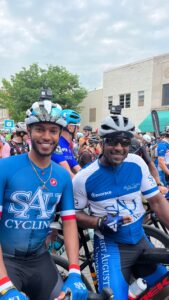 June 3, 2023 – Emporia, Kansas: Saint Augustine's University (SAU) was represented by head cycling coach Finote Weldemariam and volunteer coach Ronald Kurney at one of the country's premier gravel race events, Unbound Gravel in Emporia, Kanas. This was the second year in a row that SAU tackled the event. Four thousand athletes competed in the race.
The 103-mile course included miles of "peanut butter" mud and two stops for rehydrating, refueling, and bike maintenance. Canyon, SAU team bike sponsor, was on hand to support the riders. The SAU representatives fought through cramps late in the race to finish strong. Weldemariam finished 110th, and Kurney finished 132nd out of 1232 total competitors. Each placed in the top 10% of his respective age group.
The race was not only a test of endurance, but also an opportunity for the SAU team to connect with sponsors, supporters, fans, and fellow cyclists who have supported both SAU and HBCU cycling. The event provided the opportunity for the team to share its story and inspire other young Black riders to pursue their cycling dreams.
About SAU Club Sports:
The Saint Augustine's University (SAU) club sports program is managed by the sports management program in the School of Business, Management, & Technology (SBMT). SAU club sports include cycling (the first HBCU team in the country), BMX, rowing (the first HBCU ladies' team in the country), Ultimate (the first HBCU team in the country), SIM golf, and SIM motorsports. Sports in development include flag football, pickleball, paddling, VR tennis, 3v3 basketball, and adventure racing. The program is designed to support SBMT curriculum, as well as to introduce sports not typically part of the HBCU experience. For more information, visit www.sauclubsports.com.