SAU Partners with Duke Energy's Free Energy Efficiency Program to Save $22K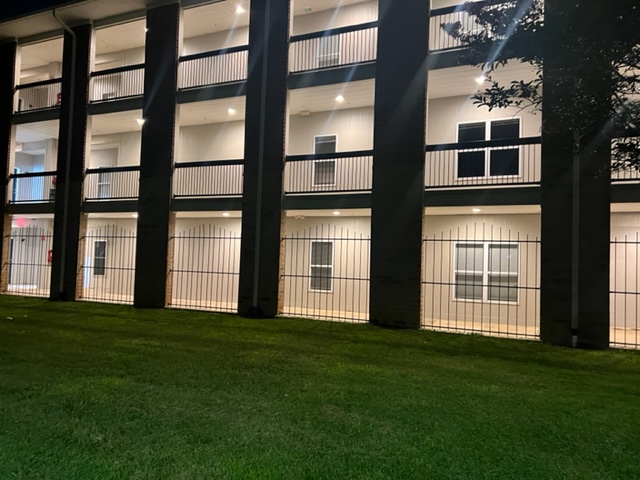 With higher energy prices and increasing costs taking a toll on household and organization budgets nationwide, Saint Augustine's University (SAU) received some much-needed relief. Over the Summer, the SAU Department of Residence Life partnered with Duke Energy through their Multifamily Energy Efficiency Program to install energy-efficient shower heads, sink faucets, and upgraded LED Lights in all of the university's Residence Halls. Duke Energy also installed exterior lights in Falkcrest, Latham, Weston, and Boyer Hall. As a part of Duke Energy's Multifamily Energy Efficiency Program, all upgrades were completed free of charge to SAU. In addition, Duke Energy also wrapped and insulated the water heaters in SAU's Falkcrest apartments.
"I am thrilled to announce that the university has partnered with Duke Energy in an energy-saving initiative to upgrade the LED lights in our Residence Halls," said SAU President Dr. Christine Johnson McPhail. "As we continue our path towards a more sustainable university, I want to emphasize the importance of energy efficiency. It helps us reduce energy waste, create a more resilient power grid, and align with our goal of producing clean energy. I am proud to work alongside Duke Energy and our students in this endeavor. I am excited to see these upgrades' positive impact on our campus."
Duke Energy Multifamily Energy Efficiency Program helps residents who live in multifamily properties save energy and money. Duke Energy's install team comes to properties. It implements energy-efficient aerators for bathroom and kitchen faucets, water-saving showerheads, and more in each unit at no cost to the property owners or residents. Smart thermostats are also available at reduced cost. The implementation of this program on Falkcrest results in an estimated community energy savings of 122,684 kilowatt hours in its residential units and 64,328 kilowatt hours in its common areas, equating to a community savings of $16,042 and $6,877, respectively, for a total of $22,919.
"Energy efficiency is extremely important to Duke Energy because it creates a more resilient power grid and reduces energy waste," said Cameron Woodard in a statement, who oversees the program as Senior Products and Services Manager at Duke Energy. "Energy efficiency plays right into that. That is how we're going to get there, producing clean energy, but also being energy efficient. Through Duke Energy, but also with our customers and helping them."
Click here to learn more about the Duke Energy Multifamily Energy Efficiency Program.