George Jack Returns as Actor in Raleigh's Burning Coal Theatre Company Production in Collaboration with Historic Oakwood Cemetery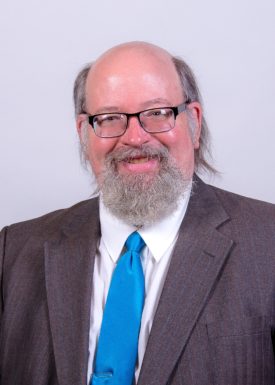 George Jack, Associate Professor of Theatre, has been doing plays in a cemetery for the past seventeen years.
Since 2006, Raleigh's Burning Coal Theatre Company has teamed up with Historic Oakwood Cemetery to produce a series of plays staged on the Cemetery's premises concerning local Raleigh and Wake County history. Jack has played a part in these outdoor historical dramas from the very beginning, first acting in plays for ten years and then directing for the last six years.
This year's production is "Butterfly Wings," written by Burning Coal Artistic Director Jerome Davis and based on the book "Life and Death in High Places" by Raleigh historians Bruce Miller and Robin Simonton (who is also Oakwood Cemetery's Executive Director). Allison Acuff directs the play, and Jack returns as an actor this year, portraying the role of The Judge, who oversees the murder trial of Ernest Haywood, a Raleigh attorney who shot and killed businessman Ludlow Skinner on Fayetteville Street one morning in 1903. The murder and subsequent trial achieved nationwide attention and rocked the foundations of turn-of-the-century Raleigh society.
"Butterfly Wings" runs this weekend, with performances on Friday and Saturday evenings at 6:30 p.m. and on Sunday at 2 p.m. Tickets can be purchased online at burningcoal.org or the Historic Oakwood Cemetery.