AHRA Honors SAU Alumnus Melvin Miller in Alexandria, VA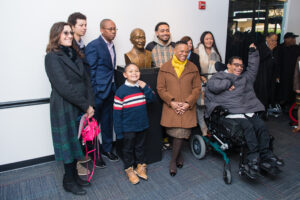 On November 17, 2022, the Alexandria Redevelopment Housing Authority (ARHA) renamed its Wythe Street headquarters building in honor of Saint Augustine's University (SAU) alumnus A. Melvin Miller. The ceremony also unveiled a bust of Miller, the late community leader, Civil Rights activist, and affordable housing advocate.
"Is there such a thing as a diminutive giant?" said former D.C. Deputy Mayor Merrick Malone, a member of the ARHA board of commissioners, in a statement. "That's who Mel was. He touched so many lives and was a fierce advocate for the underserved. Our city is a much better place because of Melvin Miller."
Mr. Miller received his A.B. degree in history and political science in 1952 from SAU. He was appointed the university's first interim president from March 1999 until November 1999. In addition, Mr. Miller served nearly 35 years on the SAU Board of Trustees before his death in 2015, also serving as chairman of the Board from 2007 to 2008.
"The impact of Mr. Miller's leadership demonstrates a lifetime of excellence at every level," said SAU President Dr. Christine Johnson McPhail. "His service to SAU and his community reflects our university's rich history and contributions to our nation's progress in civil rights and advocacy in social justice."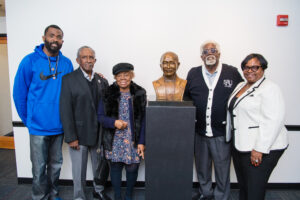 Celebrity, corporate and professional NFL photographer and owner of Griffin Vision Media Elijah Griffin provided photography at the ceremony. Griffin, who attended SAU from 2000 to 2004, is a native of Alexandria and was recruited to enroll at the university by Mr. Miller.
Click here to read more about the AHRA ceremony.